From 18. April to 20. October 2019 you can enjoy an extremely nice ride on the rail bike, all the way from Tommerup St. to Assens, a distance of approximately. 30 km.

The Route:
The route takes you from Tommerup St. to Tommerup - also known as Knarreborg. Then on to the small village Nårup, with its old railwaystation and the Galaxy. From Nårup the route goes along the woods of Krengerup to Glamsbjerg, Flemløse, Ebberup and Assens. On the way a view to Dreslette Church, the Helnæs Bay and the old fishing village Thorøhuse.

Starting points and distances:
Tommerup St.: Situated only 13. minutes by train from Odense
Glamsbjerg: Situated 30 minutes by bus from Odense
Assens: Situated only 1 hour by bus from Odense





BOOKING:

Superbrugsen Tommerup St.
Tallerupvej 15
5690 Tommerup
Tlf.: +45 6476 1418
Opening hours: 09.00 - 19.00
Mail: 06217@coop.dk

Circle K Servicecenter
v./ Helle Hansen
Odensevej 14
5620 Glamsbjerg
Tlf.: +45 6472 2202
Mail: 10234@circlekeurope.com

Camp One Assens Strand
Næsvej 15
5610 Assens
Tlf.: +45 6360 6362
Mail: assens@campone.dk


Turning the trolley 180° on the track in order to return to your starting point,
can be done in two ways:
1. If you are three to four people, simply lift it from the track and rotate it.
(weight appr. 240 Lbs - be carefull)
2. In the villages of Nårup and Ebberup there are turning disc's, on which you can rotate
the trolley as follows: Position the trolley above center of the disc,
unlock lever and lift the trolley by lowering the lever -
then rotate the trolley 180° and lower it back on the track.
Please remember to lock lever again, using the padlock.

Rail biking:
Rail bikes are easy to pedal. There is room for three or four people on the bike - and even for luggage as well.
Children under 18 have to be accompanied by an adult.
There are speciel regulations for "Road Crossings". The list of regulations is handed over to you when you rent the bike.
The rail bikes must allways be returned to startuing points.

Sigths near by:
• The brickyard Lilleskov Teglværk
• The Bird Park Frydenlund
• Weaving Museum, Krengerup
• Open-air Museum Vestfyns Hjemstavnsgård
• Skoda Museum
• Dreslette Church
• Hviid's Japanese Garden
• Open Garden "Bjørnemose"
• Willesmoesgårdens Mindestuer,
• Ernsts samling, Collection of antiques
• Mands samling, Museum if Rural life
• Marked walking paths og various length from Tommerup St.
and in the Krengerup Woods
The nature:
The lush countryside is enjoyed at your leisure from a rail bike - with no traffic problems whatsoever.
If you feel like stopping - off on your journey, all you have to do is stop pedalling and have a breather.
The trip takes you through some of the loveliest scenery on Funen, with open fields and woods on both sides.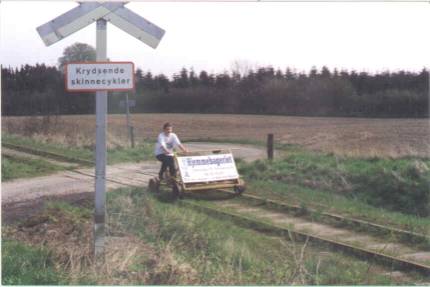 Enjoy the countryside in a complete new way - rent a rail bike!
A different type of experience for the whole family!

Price: